Key Takeaways from StoxPlus' International Conference on Consumer Finance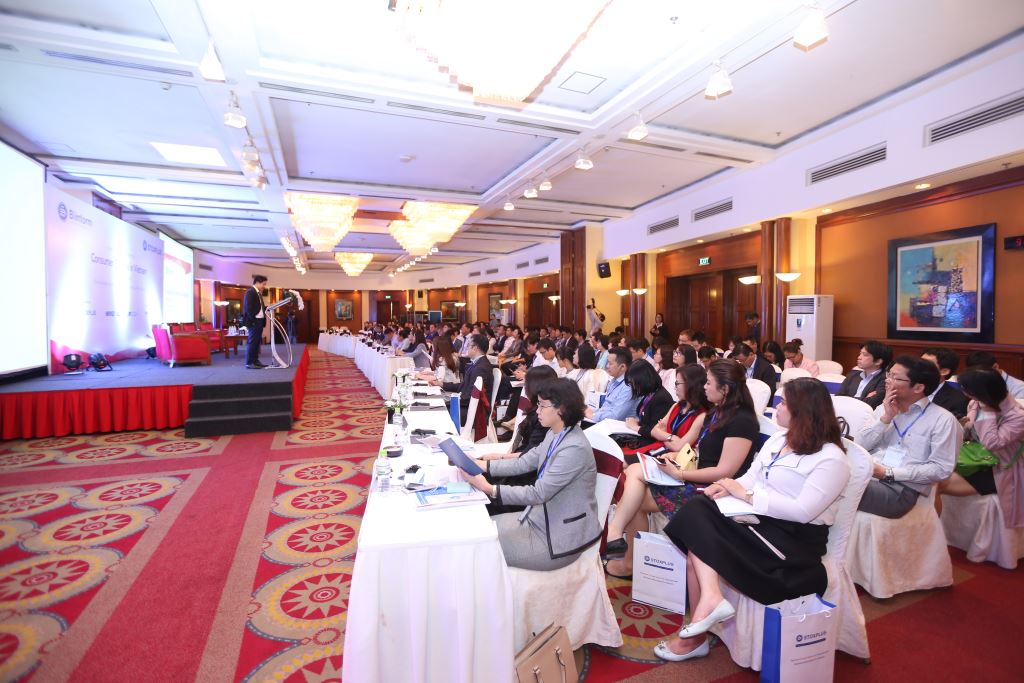 On October 19, 2017, StoxPlus organized the International Conference on Consumer Finance in Vietnam at Hilton Hanoi Opera. The event attracted nearly 150 local and foreign participants from banks and consumer finance companies, securities, funds, consulting firms, international organizations, government agencies, P2P and Fintech.
Below is some of the key discussion topics:
Market potential & trends: Vietnam's Consumer Finance is one of the fastest growth markets in Vietnam in recent years. The total outstanding consumer loan is currently at VND960 trillion, accounting for 15.7% of the total outstanding loans of the whole system; of which, VND74 trillion is provided by finance companies which posted highest consumer outstanding loan growth in the past three years with an average increase of 44% a year.
All of the leading experts in the industry are optimistic about the potential of Vietnam's CF market. The growth rate is expected to be at 20-25% with demand driven by:
A fast growing middle class and younger demographics, resulting in the demand for affordable housing and home appliances purchases
The vehicles market is expected to experience an uptick in growth when tariffs are reduced to 0% for vehicles built in ASEAN countries, making the possession of a car more affordable.
The potential for consumer finance has not been realized in rural areas
Currently most customers are approached via traditional distribution channels (at retailers' stores) whereas the potential for fintech and digitalized distribution channel remains largely unexplored.
From the view of the market supervisor, there is not a legal framework until December 2016 with the issuance of Circular 29 & Circular 43 stipulating the lending activities of credit institutions and consumer finance companies respectively. Moreover, the government has tasked the Ministry of Industry and Trade with the consideration of eliminating the standard contracts and common contracts for credit institutions including consumer finance companies to help the growth of the market.
From the view of the infrastructure builder, the database of credit information has been growing but Big Data and alternative data need to be explored to increase coverage and the accuracy of the risk assessment systems.
Product trends & distribution channels: as the traditional channels (retailers) are becoming more saturated, digitization has become a viable solution to the growing demand of the CF market. New models on distribution channels and underwriting activities using alternative data are ushering the CF market forward in the next 10 years.
Fintech is considered very important and has been given support in many forms. An Automated Clearing House system is being built for fintech applications in banks. Secondly, we are trialing chip cards for Vietnam and most recently, we allowed Samsung to use digital cards. eKYC is also a focus point for Fintech Steering Committee. As for e-wallets, although it is a hot topic, it is not well developed in Vietnam. Matters such as whether e-wallets should be linked to bank accounts, or if fintech companies can do cash in cash outs, and how they will do it, would need further consideration, besides block chain and cryptocurrencies. The SBV has recognized the new trends in Fintech and are working on supporting Fintech.
Information infrastructure for unbanked population: The speakers all agreed that the development of a shared database for unbanked population in Vietnam will be critical for the sustainable development of the business and help reduce the lending rates by CF companies as directed by the Government.
CIC's database includes customers who used to use, are currently using, and will be using CF services. Most of CIC's database are personal information. By 30/9/2017, CIC has the information of more than 32 million individual customers and nearly 800,000 institutional customers. Considering the Vietnamese population, CIC covers about 35% of individual customers and considering the working age population, CIC covers about 60%. To aid the appraisal process, CIC has connected with banks via a number of servers to speed up the data access time. An example of using information at CIC is that CIC has been providing information on people with overdue debt to other CF companies and banks so that those people would have to pay their overdues. However, we need more companies to provide credit information with better quality. The companies which uses CIC products most effectively would have the lowest NPL, such as Home Credit who only paid VND24,900 per customer but has an NPL at 2.5%, the average of the sector whilst other competitors have higher NPL. From IFC, IFC has published a handbook on credit information to help people aware of the importance of credit information, especially for those without a credit record at credit information centers. However, the collection of information needs more help from the government agencies. IFC is expected to support the Government of Vietnam to improve this area in the next 2-3 years.
CF interest rate ceiling: CF interest rates in Vietnam is not too high relatively to other peer countries in the same CF models. While some people think that the rates are too high, however, the SBV responds that it would depend on the market. If the interest rate is too high, only very desperate people would sign on to the CF loans and therefore would result in more NPLs, which would cause an adverse selection and moral hazards. The market will need to adjust itself and consider a reasonable risk. For the time being, SBV will not consider to set a limit for lending rates by finance companies and it is currently under negotiable scheme as regulated by laws. 
P2P: SBV is currently considering and working on building a policy framework for new products such as fintech and P2P lending. Due to the high potential of these products, the risks embedded are also unrealized and there needs to be a policy to ensure safe growth for the market. The example from China shows that: P2P lending were allowed uncontrolled growth without supervisory or legal framework. P2P organizations were able to mobilize deposits at about 12-13% interest rate per year, much higher than the mobilization interest rate of banks. P2P used to work in the same way as pawn shops, using money from new investors to pay for existing investors. Therefore, there embeds great risk in operations of P2P lending and the rights of investors. Afterwards, the Chinese government required that money transfers have to be via intermediary banks to ensure the transparency of the operations, which has been effective in regulating the market.
This is the second event about Vietnam Consumer Finance Market organized by StoxPlus with support Nikkei Inc. (Japan), International Finance Corporation (IFC), a member of the World Bank Group with panelists and guests who are leading experts from McKinsey & Company, IFC, National Credit Information Center of Vietnam under the State Bank of Vietnam; US embassy, Japanese embassy, Japan International Cooperation Agency (JICA), FE Credit and StoxPlus. 
Source: StoxPlus