StoxPlus to organize an International Conference on Consumer Finance for Vietnam on 19 Oct 2017 in Hanoi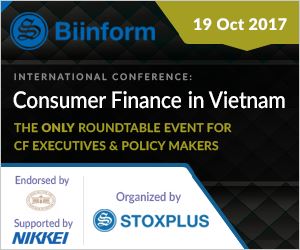 The Event will take place on 19th October 2017 at Hilton Hanoi Opera in Hanoi to address important themes and legal framework changes for a healthy and sustainable development of the Consumer Finance market.
Vietnam's Consumer Finance is one of the fastest growth markets in Vietnam in recent years. Total country's loan book was recorded at VND 605 trillion for both banks and non-banks as at 31 December 2016. Of which, total loan book by pure consumer finance players amounted to VND 56.3 trillion. With the annual growth rate of 48% over the last three years from 2014 to 2016, it is expected to increase sharply in 2017 and years to come.
Although market remains very potential because of low penetration and  significant unbanked population in Vietnam, various challenges and policy developments have not yet to be shared and discussed by all stakeholders including the regulators, consumer finance companies, banks, e-payment and e-commerce firms, investors and international organizations for a sustainable and healthy development of the sector in the future.
Key themes to be addressed during the Event include:
What is the manageable level of the sector growth for Vietnam from risk management perspective?
What are the social impacts on consumer/borrower's protection and how CF companies would improve the underwriting process?
How should legal and policy framework governing the CF be developed to support the healthy development of the sector?
How should emerging CF models such as by application of big data, Fintech and Peer-to-Peer lending be applied and regulated in the context of Vietnam?
This is a platform for dialog between market participants, investors, researchers and regulators to discuss such issues and provide insights and reflection on market practices, international experience to contribute to the sustainable and healthy development of CF market in Vietnam.
The Event will take place from 8:00-13:30 at Hilton Hanoi Opera, 1 Le Thanh Tong St, Hoan Kiem District, Hanoi with about 200 participants from local and foreign banks, finance companies, investment funds, e-payment and e-commerce players. This is the second event about Vietnam Consumer Finance Market organized by StoxPlus with support from ) International Finance Corporation (IFC), a member of the World Bank Group and Nikkei Inc. (Japan).
For more information about this Conference, readers can direct to http://biinform.com/Events/Top . This is paid event with entrance fee of US$200 per person.
For sponsorship and participation opportunities, please kindly email: biinform@stoxplus.com or call us at +84-24-5626962 (Ms. Dung Vu).  
Source: StoxPlus