CEMENT SUPPLY SURPLUS IS RISING ALARMINGLY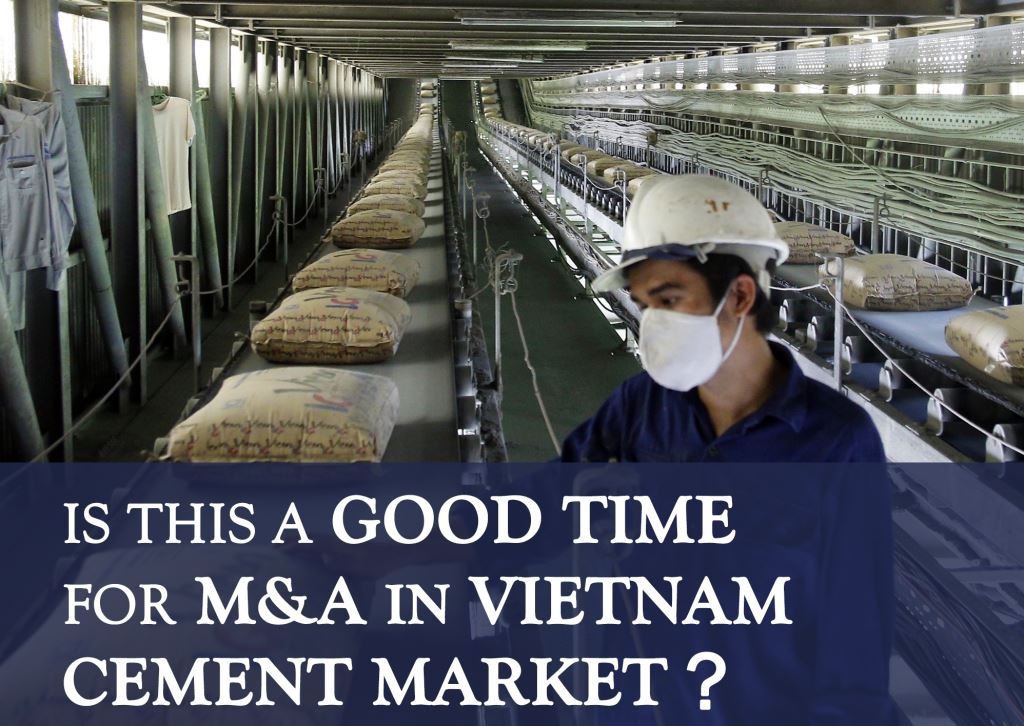 Despite the challenge of oversupply along with signals of Vietnamese construction slowdown, foreign investors including Thai conglomerate Siam Cement Group (SCG) and Siam City Cement Company (SCCC) are investing heavily in the cement sector, indicating the attraction of the domestic market in the eyes of foreign investors. The invasion of foreign investors with long-term strategies into Vietnam's cement market is undeniable.
According to StoxPlus' Vietnam Cement Market 2017 report, domestic cement consumption reached 59.8 million tonnes in 2016, posting a year-on-year growth rate of 7.3%. The market expanded healthily but the momentum is slowing in the beginning of 2017 with an increase of 5.7% in domestic sales volume for Q1. The deceleration could be explained by the construction growth slowing markedly during this quarter at 4.8% (compared to 11.5%, 8.0% and 11.2% in Q4/2016, Q3/2016 and Q1/2016, respectively), resulting from non-residential and infrastructure segments softening at 0.4% and 3.0%, respectively during the quarter. "Cement domestic sales volume continues to go up moderately at around 6-7% in 2017", as stated by Ms. Nguyen Quynh Lan – Managing Director of Biinfrom.
Meanwhile, cement and clinker export volume in 2017 stayed at over 17.1 million tonnes (equivalent to US$561 million), dropping by 4% versus 17.8 million tons in 2015 due to fierce competition with cheap products from other peers in the region. China and India were the main competitors in exporting cement. Particularly, China has actively launched low-priced cement given its overcapacity since 2016, challenging exporters from Vietnam. In addition, a new VAT reimbursement policy is expected to blow away the key competitive advantage of Vietnam clinker and cement which is its low price.
Figure: Cement Sales Volume in Vietnam, 2007-2016
Regarding the supply side, StoxPlus pointed out 93 cement facilities in Vietnam with total production capacity of 100.3 million tonnes of cement per annum. Of which, 60% of the total number of existing plants have capacities of less than 1 million tonnes per annum amongst 62 owners. Currently, the cement industry is experiencing a utilisation rate of 60%, relatively low compared to global standard of 85%. In the next two years, upcoming cement facilities including Vissai (Song Lam Cement - 4.0 million ton capacity plant), ThaiGroup and Cong Thanh will boost Vietnam's production capacity up to 112.3 million tonnes per annum in 2018. Despite a healthy domestic market, Vietnam is expected to face a continuous supply surplus before reaching an equilibrium in 2029 at 156 million tonnes of cement, according to StoxPlus' forecast.
Figure: M&A Transactions in Vietnam Cement Industry

Although the oversupply remains, foreign investors are still eyeing Vietnam's cement industry. In the beginning of 2017, Thai investors put heavy investments into the market. Particularly, Siam Cement Group successfully acquired 100% of Vietnam Construction Materials Companies (VCM) valued at US$156 million while Siam Cement City Company (SCCC) officially announced its acquisition of a 65% stake in Lafarge Holcim Vietnam, namely its new brand – INSEE. Not surprisingly, the cement market in Vietnam is still a promising destination supported by sustainable demand including demand from construction growth and urbanization in big cities. The lack of infrastructure in terms of transportation such as roads, bridges, and industrial parks is undeniable. According to MPI, there are more than 200 infrastructure projects from 2011 – 2021 with total investment of up to US$240 million. Nonetheless, StoxPlus also puts the high demand on "affordable" housing in residential areas.
Full report can be viewed at: https://biinform.com/Reports/DD8-vietnam-cement-market-report-2017-2350.html
Source: Bizhub