Biinform managing director represents Vietnam to speak to 200 delegates at the Cemtech Asia 2016 conference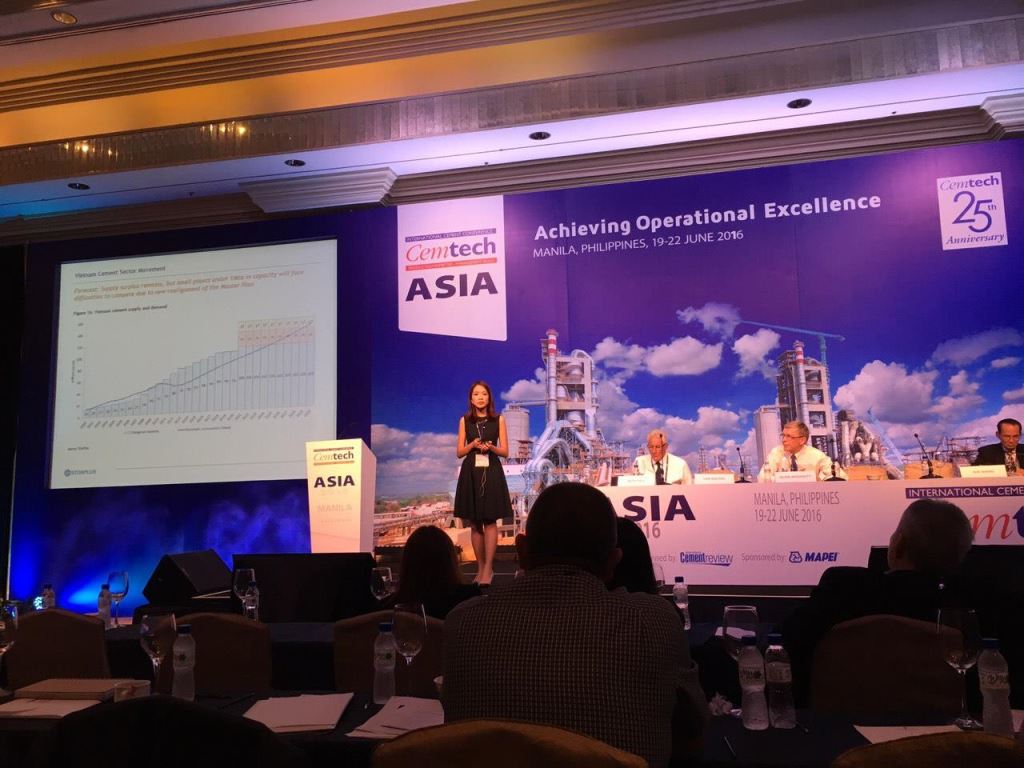 Ms. Lan Nguyen, Managing Director, Biinform represents Vietnam to speak to 200 delegates at the Cemtech Asia 2016 Conference in Manila, Philippines on June 19th – 21st, 2016.
2015 marked a favourable year for domestic consumption of cement with sales volume of 55.7 million tonnes, posting a year-over-year ("y-o-y") growth of 11.2% - the highest figure since 2011. This achievement resulted from a sharp leap in construction sector, driven by residential and civil engineering (infrastructure) segments. However, despite strong growth of domestic and great efforts to export clinker and cement, StoxPlus forecasts that Vietnam market would continue to experience the supply surplus within the next 10 years.
StoxPlus was invited as the only speaker from Vietnam to discuss about "Opportunities for investors in the Vietnam cement industry" and to present our annual Vietnam Cement Report Series as well as our market information and research capability in Building Materials Industry of Vietnam. If you have any queries or service requests, please kindly write to our Specialist Team: biinform@stoxplus.com
ABOUT STOXPLUS
StoxPlus is proud to be a leading financial and business information corporation in Vietnam, providing comprehensive information, analytic solutions, and industry research for both domestic and foreign clients.
Our Biinform is Vietnam's leading provider of business information via portal-based services built on an aggregated database of almost all companies registered in all industries. Our mission is to contribute to the development of the local information industry, support business decisions and increase investment confidence by ensuring sufficient trustworthy information on local companies for anyone who has the demand. We cover all key sectors of Vietnam on a periodical basis, including Consumer Finance, Banking and Insurance; Construction Materials including cement; Healthcare; Plastic Packaging; Internet/E-commerce; Logistics; etc. Our services include company reports and standard industry reports which are available for sales at www.stoxresearch.com and customized services to meet specific requirements by clients including in-depth market analysis & survey, defining market entry strategies, company visits and due diligence and trade connections.
With our quality-driven data collection and enhancement process and our team of experts in data cleansing, standardization and enrichment, we turn raw data into quality information and business insights.
ABOUT CEMTECH ASIA 2016
This event is the leading conference event for the global cement sector, organised by International Cement Review, delivering up-to-date market and technical coverage. Cemtech's renowned speaker programme will ensure topical and up-to-date coverage of all aspects of the cement sector: from country profiles and regional market forecasts, to detailed case studies presented by leading technology experts and cement producers. This year, the Conference's theme is on Achieving Operational Excellence for cement companies in Southeast Asia, one of the world's fastest-growing region in terms of cement consumption. Then 10 ASEAN markets are at different stages of development for cement, but all share the same growth potential. Cemtech Conferences are a key event for cement industry worldwide, with the upcoming 25th anniversary conference to be held in Westin Palace, Madrid.
Source: StoxPlus