StoxPlus: Spotting for opportunities in Vietnam Logistics sector 2018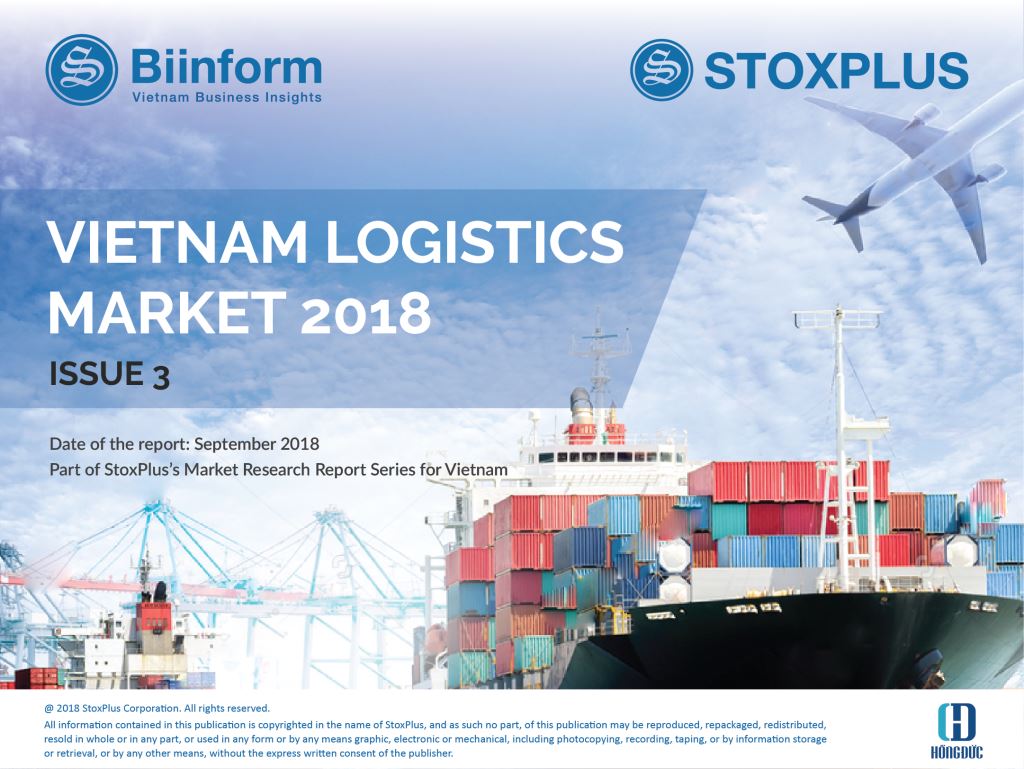 2017 wrap up as a great year for logistics!
Click here to explore full Vietnam Logistics Report 2018 

Vietnam logistics sector is formed by the fragmentation characteristics with the participation of approximately 3,000 companies, mostly SMEs with annual sales under US$10 mn. Roughly 70% of these companies are under 1PL or 2PL model providing low-value-added logistics services. Meanwhile, 3PL to 4PL logistics providers are normally international companies providing full-chain logistics services and supply chain solutions for giant FMCG manufacturers (Unilever, P&G, Masan) and distributors (BigC, Metro, Aeon, etc.). Notably, some big local players such as Gemadept, Transimex, Indo Trans or Vinafco are commencing to tap into this model.
Vietnam logistics sector can be segmented into three main categories namely Transportation, Forwarding and Warehousing, of which Transportation captured approximately 60% of total market value in 2017.
Figure 1: Transported Freight Volume (mn tons) by Transportation Lines, 2007-2018f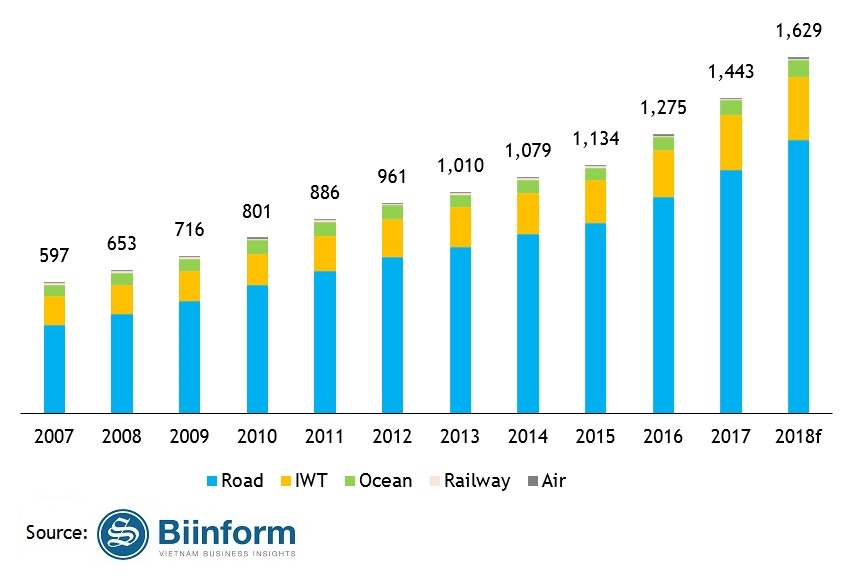 For the last 03 years, total transported freight volume posted stable growth of 12.8% in average. Although road remained the "back bone" of Vietnam transportation line, posting a 2007-2018f CAGR of 10.6%, the role of road transportation is targeted to be driven down to 54.4% (2020) as orientation from Project for Restructuring of Transportation Lines in the period of 2016-2020 while other sectors are expected to increase their contribution by double in average.
Looked at from a more global perspective, Vietnam's recent logistics performance has improved significantly compared to two years ago. Vietnam's logistics sector ranked 39th of 160 countries worldwide (and 5th within ASEAN) in terms of Logistics Performance Index (LPI), according to the World Bank in 2018.  The country's LPI score increased from 2.98 (2016) to 3.27 (2018). Three LPI's dimensions witnessing significant improvements are "Infrastructure", "Logistics quality and competence" and "Tracking and tracing". Among those, logistics quality registered highest growth rate, which reflected the competitiveness improvement of local companies via rising technology application, from 15-20% of number of logistics companies (2015-2016) to 40-50% in 2017-2018 according to VLA's survey. These benchmarks reflect the country's ability to deliver double-digit (closer to 20% than to 10%) growth in logistics sector for coming years.
PORT OPERATION AND EXPRESS SERVICES COMPANIES OUTPERFORM THE MARKET
StoxPlus database covers 1 million corporates including 3,000 logistics companies in Vietnam, of which 240+ key logistics players are selected for segmentation performance review featuring both listed and private companies with revenue over US$ 1mn. StoxPlus analysis is believed to be representative for Vietnam logistic sectors as it covers all leading players in the field.
Figure 2: Net Sales Growth in 2017 by Logistics Segmentation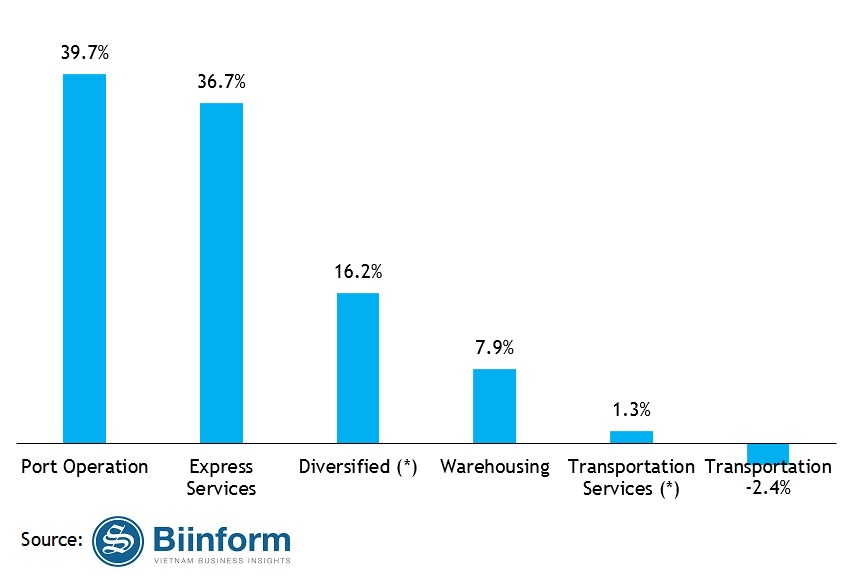 (*) Note:
Diversified sector refers to companies capable of delivering full-chain logistics services. Majority of diversified companies are private foreign-owned ones with revenue over US$25 mn.
Transportation services sector refers to companies engaging in business activities supporting transportation such as cargo terminal services, catering services, railway signaling – telecom, etc.
Port operation:
Despite its negative growth rate recorded in 2016, the port operation companies witnessed the highest growth amongst transportation lines thanks to the booming of import and export activities. In 2017, Vietnam had a trade surplus at US$2.8bn with export and import, growing at 21.1% and 20.8% YoY respectively, which are approximately 3 times higher than the growth rate reported during 2015-2016 period. As a result, 2017 witnessed the robust growth of cargo throughput via seaport of 16.7% - the greatest growth recorded since 2011, of which international (import-export) category registered largest growth rate of around 10%. Majority of port operators with high sales growth are located in the North area. The prospects for improvements in cargo transportation through Hai Phong ports are positive due to four main reasons: (i) Strategic location; (ii) Improved infrastructure; (iii) Operations of giant MNCs in the region such as Samsung, LG Electronics Vietnam, Bridgestone and Shin Etsu and (iv) More and more companies are establishing their production facilities including Vinfast of VinGroup in Dinh Vu – Cat Hai Economic Zone thanks to investment incentives mainly in tax and land rental.
StoxPlus analysis included more than 40 key port operators in Vietnam. As of December 2017, Vietnam has 49 seaports with total cargo throughput of 536.4 million tons – equivalent to the utilization rate of 98.66%, of which the seaport with higher utilization rate are located in Hai Phong (North) and Ho Chi Minh City (South). While the total volume of container cargo handled through South seaport system accounted for 50% of the whole country, recent years witnessed the rising cargo throughput via North seaport system driven by the active import-export activities of top electronics exporters such as Samsung Electronics, Fushan Technology, LG Electronics Hai Phong, Panasonic System, Unide. Key port operators include Gemadept occupying 3.6% of total port operators' sales in 2017, followed by Hai Phong Port (1.9%), Tan Cang – Cai Mep Port (1.6%), Vietnam Container Shipping (1.2%) and Quang Ninh Port (1.2%). Generally, in 2017, port operators reported outstanding net profit margin (over 10%) and quite stable liquidity position. The year of 2017 and 2018 witnessed the strong expansion and new investment in the seaport segment as well, not only supporting Vietnam to become the logistics regional hub in near-term prospects but also expecting the fierce competition amongst port operators in the future.
Figure 3: Highlighted Port Investment Project (2017-2018)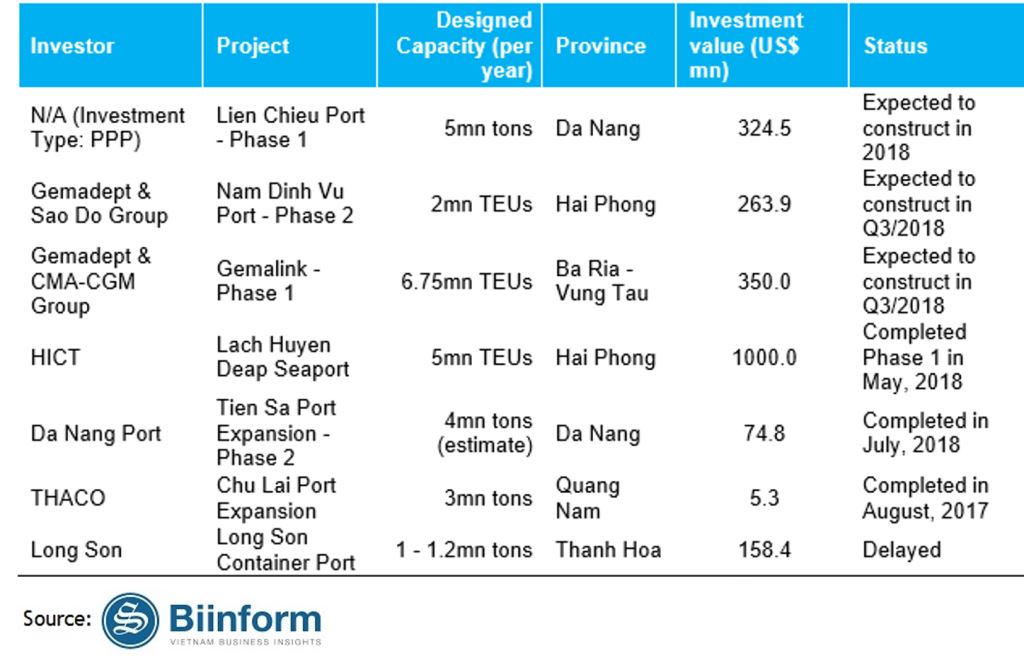 In the long-term prospects, the robust growth of e-commerce industry would urge the high demand for time-sensitive delivery for soaring number of frequent and small-size orders. By 2025, according to a study of Google & Temasek, Vietnam will have Ecommerce market of US$7.5bn thanks to five key systemic changes: young population, increase in internet speed and penetration, stable GDP growth of over 5% p.a, more conductive payment ecosystem and lack of store access. According to VECOM, eCommerce sales growth reached 25% in 2017, and this rate is expected to maintain in near term prospects (2018-2020). E-commerce is driven by mobile penetration and internet users in Vietnam, which already has very high penetration rate. Among population using internet, 57% are engaged in online shopping activities. For instance, top key home appliance retailers witnessed significant improvements in proportion of online sales (eg.: MWG: from 6.5% in 2015 to 12.3% in 1H2018, FRT: from 6% in 2014 to 16% in 1H2018). It is well noted that due to the robust growth of eCommerce market, despite the fact that top players in the field such as Lazada, Shopee or Tiki all have their own delivery team, they are facing high demand for on-the-go delivery in the urban area. In particular, Shopee still coordinates with Giaohangnhanh and Giaohangtietkiem or Sendo enters the partnership with Ahamove to meet high demand from customers for swift delivery.Express services:
For the last 03 years, express services companies enjoyed the healthy growth rate of more than 30% with the strong new participation of domestic players to meet the cash-on-delivery demand. Some of the notable names include Giao Hang Nhanh, Giao Hang So 1, and Giao Hang Ong Vang, etc, who tended to push sales by offering discount/lower price and serving domestic transportation demand in big cities mainly. While key players in the field such as DHL, TNT Express, FedEx, etc. continue strengthening their presence in Vietnam e-commerce market by introducing specialized services or establishing new subsidiaries in many cities and provinces, big domestic names such as VNPost and ViettelPost are investing in new trucks and warehousing system aggressively.  Notably, the emergence of digital delivery platform such as Grab, Lalamove or Ahamove with the advantages of flexibility and connection to thousands of drivers is expected to boost the fierce competition in the express service sector. StoxPlus analysis revealed that besides its stable liquidity position and good cash conversion cycle, express services companies captured quite low profitability ratios due to poor cost management during the surveyed period.
You can find more information in our third comprehensive report on Vietnam Logistics market, featuring the most up-to-date information on Logistics sector as well as the detailed performance review of each segmentation. Please visit website: https://biinform.com/.
Click here to explore full Vietnam Logistics Report 2018 

Contact our Market Research Services team:
Tuyet Nguyen
Manager, Client Advisor
M: +84 077 333 5034
T:  +84 28 3933 3585 (ext.: 208)
Trang Le 
Executive, Client Advisor
M: +84 936 919 885
T:  +84 24 3562 6962 (ext.: 103)
E:  trang.lenguyen@fiingroup.vn
Source: StoxPlus