6 Key Takeaways from Vietnam Renewable Energy Conference: "Challenges and Practical Solutions" on 23 August 2018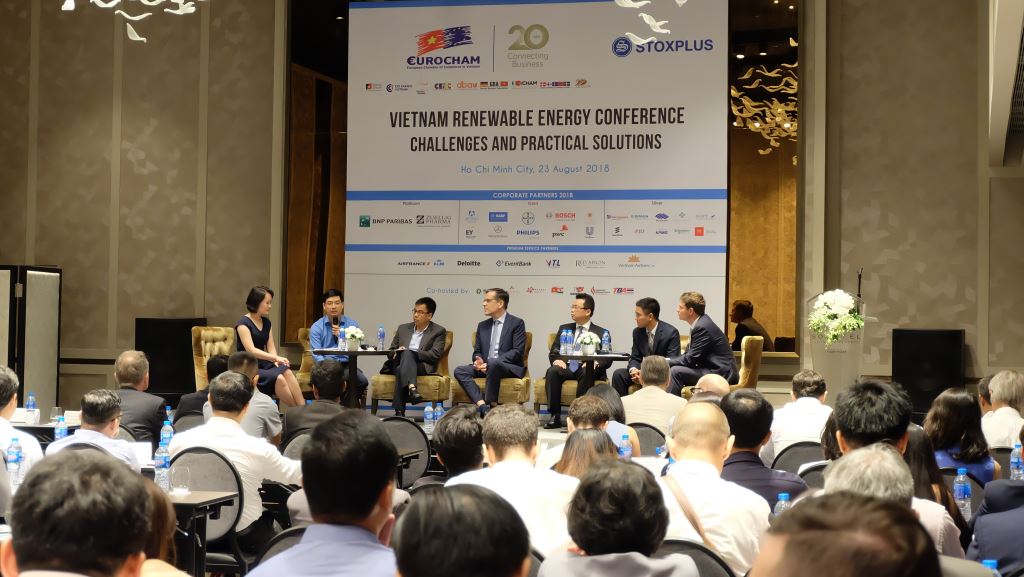 On August 23, 2018, StoxPlus and Eurocham have co-organized the Vietnam Renewable Energy Conference: "Challenges and Practical Solutions" in HCMC, with more than 130 participants from various backgrounds- energy companies, banks, investment funds, insurance, consulting & law firms, etc.
The platform provided a forum for insight sharing on the current market landscape and project implementation, with contribution from the policy maker represented by the Electricity and Renewable Energy Authority (EREA) of Ministry of Industry and Trade, and international and domestic market players including the institutional investor International Finance Corporation (of the World Bank Group), the premier law firm VILAF, and experienced developer of Renewable Energy projects Bamboo Capital (BCG).
Below are the key takeaways from the presentations and the panel discussion session:
Update on the progress of RE Projects, FiT changes, and PPA development: EREA's representative, Mr. Nguyen Ninh Hai, gave a brief update on the status and progress of Renewable Energy. By June 10, 2018, 100 solar projects have been added to the Provincial/National Power Master Plans. The MoIT has proposed to PM to raise FiT for on-shore wind power projects from 7.8 UScents/ kWh to 8.5 UScents/kWh, and FiT for solar projects may also see some downward changes after June 30, 2019. Furthermore, the MoIT has been working on developing the auction mechanism for RE projects to be implemented in the future. Additionally, the MOIT has been working with USAID to develop the direct power purchase mechanism via DPPA.
Key risks and issues for local developers: Mr. Dong Le of StoxPlus pointed to the many projects stuck at the pre-investment and pre-construction stages. The slow progress is due to multiple risks that local developers face including unbankable PPA terms, fixed FiT, and financing, operational as well as counter-party risk. However, it does not mean that these issues cannot be mitigated. Some local developers with RE licenses and relationship with local authorities still managed to find financing and technical supports through local banks as well as foreign banks and foreign developers, in structured deals of increasing foreign ownership.
The importance of international financing: While supporting the news regarding development of the FiT, Mr. Oliver Behrend of IFC stressed the importance of introducing a bankable PPA to (a) enable Vietnam to attract the large amount of (international) financing necessary for the country to meet its medium- to long-term Renewable Energy targets, which are unlikely to be met with local finance alone; and (b) to help reduce the cost of Renewable Energy for Vietnam when such cheaper, international financing is combined with a competitive procurement process for solar projects. While in the short term, the Vietnamese market still depends on international financing sources, local in the long term, the local banks could build up their experience via participation in syndications and could no longer need international partners.
Developing a bankable PPA: According to Mr. Oliver Behrend, there are three essential elements that need to be improved in the current PPA: sufficient payments from EVN upon termination of the PPA to ensure project lenders are made whole, adequate compensation to the project if it is curtailed by EVN, and arbitration of disputes under the PPA in a neutral, international jurisdiction. All three are already in place for Vietnam's BOT projects.
Key factors in successful RE deals: As an experienced lawyer with a portfolio of many energy and infrastructure project, Mr. Duong Anh from VILAF stressed the key factors in structuring a successful energy development deal. In greenfield investments, usually foreign investors have clear insights of the policy through their legal consultants and are willing to take the risks being giant corporations with good political cushion from their respective countries. Meanwhile, in brownfield investments, it is very important to choose the right business partner and consultants to provide legal and technical support, to overcome challenges including obtaining financial support, land clearance, and PPA negotiation with EVN.  Given the tight timeline to achieve COD by June 2019, in order to enjoy FIT of US cents 9.35/kWh, it is even more exigent for all the parties to be involved in the transaction.
Dealing with RE partnerships: Bamboo Capital Group, with investments in solar energy in Long An, shared their experience in dealing with domestic and foreign partners. While each side has its own risks, with the domestic partners lacking in technical expertise or the foreign partners requiring high standards of operations, the most important factors are transparency and the willingness of communications, where each party are willing to work towards a win-win end goal.
Source: StoxPlus