Credit Cards & Cash Loans – New Growth Segments for Consumer Finance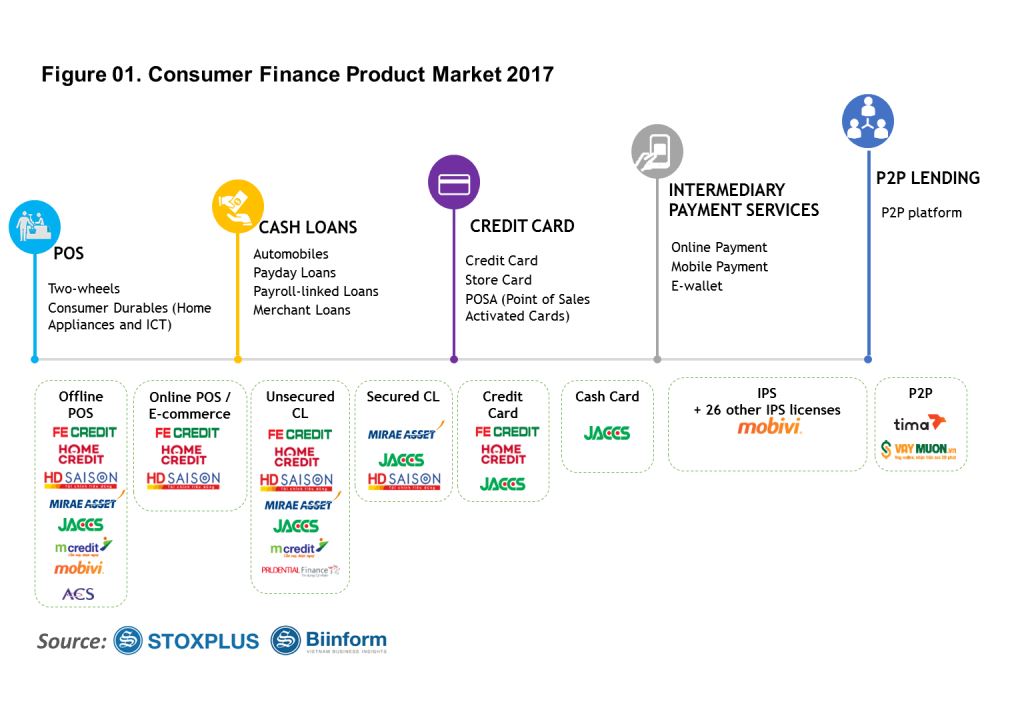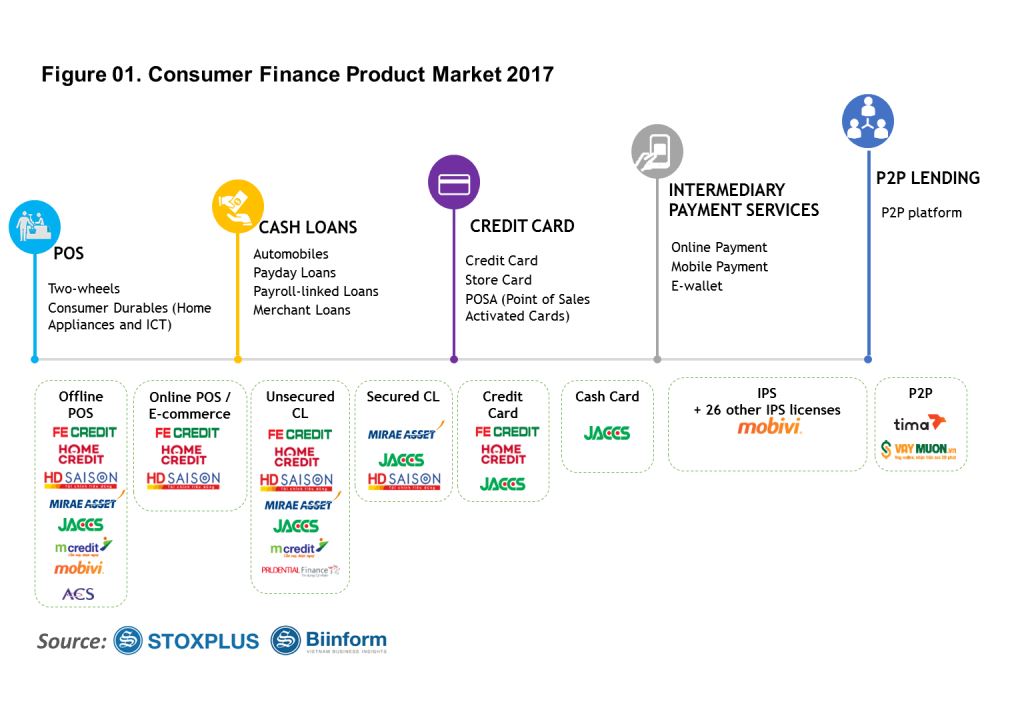 >>> Read FULL Vietnam Consumer Finance 2018 Report, please click here
Currently, the consumer finance (CF) market for Point of Sale (POS) loans such as two-wheelers and consumer durables are becoming saturated, with about two or three CF companies jostling for customers at one retailer. The trend is to move from entry-level POS products to online and digital, such as secured/unsecured cash loans and credit card. These products are expected to have high growth potential, penetrating the unbanked and lower income segments and supporting financial inclusion at the lowest levels.
Cash loan is an effective way to penetrate the 48% of the population that are mass and lower mass income segments. The size of unsecured loans is usually from VND1- 10mn, and turnaround in 30 days, up to VND70mn in 3 years depending on the credit history. This way, CF companies could increase the volume of loans while quickly re-assessing, diversifying, and managing their risk.
Not only credit institutions but also fintech companies have stepped up to provide secured and unsecured cash loans, as fast and as convenient as possible, and via online and mobile channels. Examples include Doctor Dong, ATM Online, and Cashwagon. The growing number of smartphone users in Vietnam provides a large potential customer base for the online lenders, some of whom promise that borrowers don't even have to show up in person to apply or receive the disbursement.
Other than straight up cash loans, credit cards are used as a more sophisticated too to support the demand for urgent cash. This is boosted by the consumption behavior, which is shifting towards cashless transactions and e-commerce, and the improving infrastructure, as evidenced by the total number of POS and ATM, which recorded a 10% YoY growth in 2017. Furthermore, the immediate process from loan application to disbursement via card increases customer's satisfaction. With regards to the issuers' benefits, the credit card product readily offers a wealth of information - customers' identity information, credit history, consumption behavior, and cutting down on time while streamlining costs.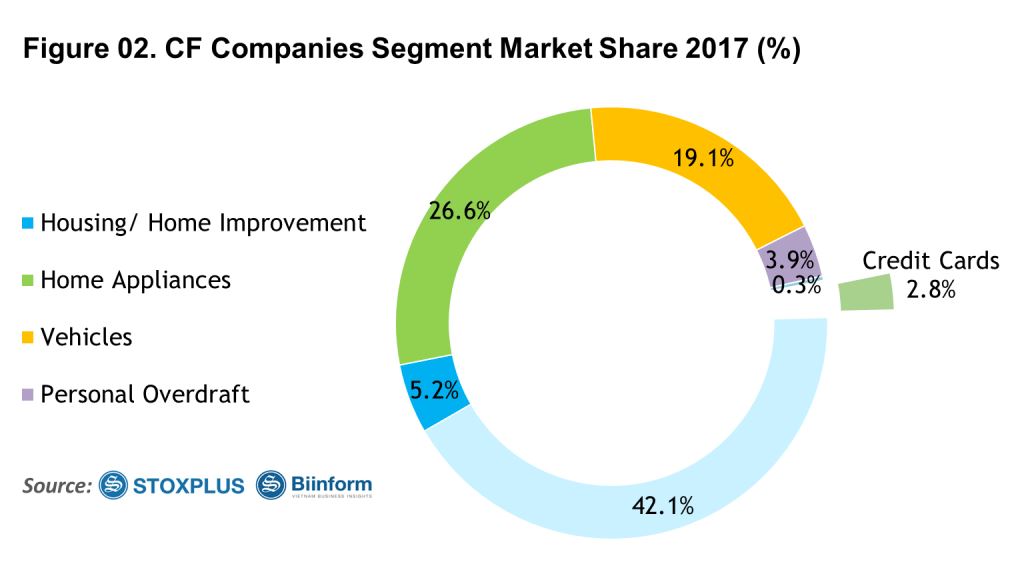 Source: StoxPlus from NFSC as submitted by CF Companies
Thanks to the strong, aggressive growth of FE Credit, credit card products have taken up 2.8% of market share after just two years of introduction. Outstanding credit card loan balances in 2017 ranged from USD60 to USD200 per card among CF companies, indicating that indeed there is strong demand from card holders for money to support immediate purchasing needs in place of cash loans. In a developing country like Vietnam with a burgeoning middle class, large unbanked population, and climbing purchasing power, credit card products have much room for growth.
As of June 2018, three CF companies are offering credit cards including JACCS, FE Credit, and Home Credit. Meanwhile, this is a lucrative market for both existing players and potential players. Supported by better internet and mobile infrastructure and the encouragement from the government to transition to cashless transactions, credit card products are expected to continue its exponential growth from the current small base to be a main consumer finance product as seen in more developed countries.
Within a more crowded market, although CF companies are still maintaining their hold on the POS as entry products, the focus are now on growth segments which are credit card and cash loans. The development of CF market therefore not only supports macro-economic objectives by enabling access to finance and promoting cashless transactions, but also deepens the CF penetration and enhances customer experience via more sophisticated and convenient products.
More detailed information about the CF market and segments could be found in our 6th comprehensive report on Consumer Finance in Vietnam, featuring the most up-to-date information on Consumer Finance companies as well as practical market trends and news to aid your decision making. Please visit our report here for more details.
Subscribe our newsletter to get more reports and industry insights:
Contact our Consumer Finance Specialist team:
Dong Le
Director Biinform
Dung Vu
Senior Research Analyst, Biinform
Source: StoxPlus